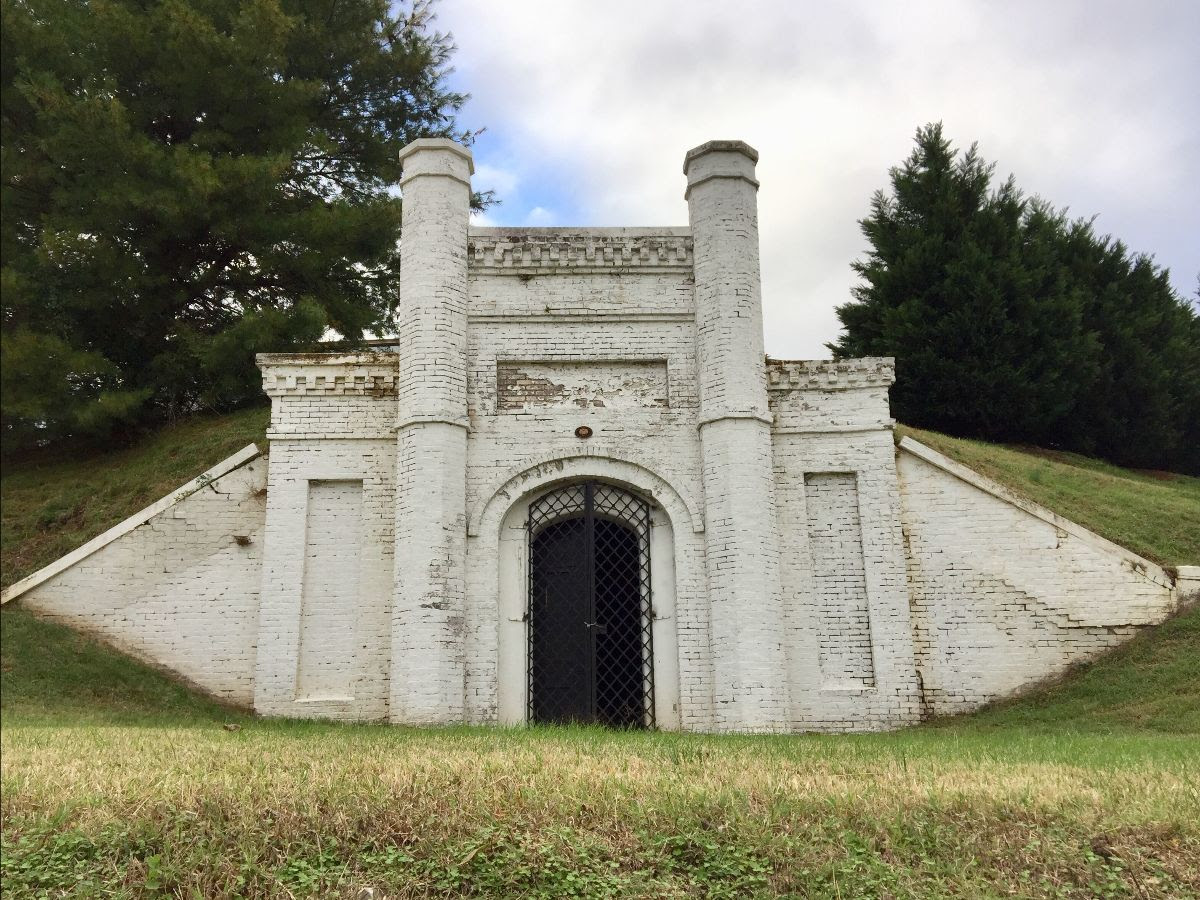 Mount Olivet Cemetery, founded in 1855 and located two-and-a-half miles southeast of Nashville's city center, was listed on the National Register of Historic Places in 2005. Four of the historic structures on the 206-acre property were identified as contributing to National Register eligibility. The earliest contributing structure is the Vault, constructed between 1856 and 1862. Architect and engineer Adolphus Heiman (1809-1862) recessed the Vault into a hillside, to provide a cool environment in which bodies could be stored until interment or transportation to another cemetery was arranged. Cemetery staff used the Vault extensively during the Civil War, and it remained in use as a cooling room until 1925. Heiman designed the structure's brick façade in a medieval-inspired style, with two octagonal ventilation towers. The interior architecture features a brick triple barrel-vault ceiling, originally covered in plaster, supported by decorative columns. Very few buildings designed by the Nashville-based architect remain standing. Two extant examples are St. Mary's Catholic Church (originally called Cathedral of Our Lady of the Seven Dolors) and Belmont Mansion. Heiman is buried at Mount Olivet.
The Vault, which was at one time leased by the Sons of Confederate Veterans for use as a museum, is now empty, and due to safety concerns, has been closed to the public by Service Corporation International/Dignity Memorial, which purchased the cemetery in late 2014. Mount Olivet's local management has begun working with preservationists to develop a plan to stabilize, restore, and maintain the historic structure.
The second-oldest contributing structure in Mount Olivet was the Gothic Revival-style chapel and office built in phases between 1870 and 1940, which was included in HNI's 2009 list of Nashville's most endangered places. It was completely destroyed by fire in January 2015.