HNI Behind-The-Scene Tour "Walking Back In Time" with Mary B. Williams and Frank Schwartz
June 22, 2019 @ 10:00 am

-

12:00 pm
Join us Saturday June 22, 2019 for a very special Historic Nashville Inc Behind-The-Scene Tour "Walking Back In Time" with Mary B. Williams and Frank Schwartz
** Ticket reservations open Monday June 3, 2019 at 6:00 PM**
Leading the tour will be Mary B. Williams and Frank Schwartz, both are 94 years young.
Mary B Williams is a Southern jewel with a smile that lights up a room and stories that entertain for hours. Her laughter is contagious. She is sunshine with red lipstick with an educated charming Southern accent. From her early days in East Nashville, to her role as a wife, mother, model, actor and entrepreneur, she has documented it all. Was one of the most notable tour guides of Nashville, she has a passion for history.
Morris Frank Schwartz, Jr. was president and CEO of Rich, Schwartz & Joseph from 1957 to 1976. He was the third generation in his family of brilliant retail merchants of women's fine apparel here in Nashville. The company had store downtown on 5th and then 6th Avenue North, moving in 1955 to West End, and in 1961 then opened a second store in the Belle Meade Shopping Center. Customer service and high-quality apparel were the foundation of their success. Merchandise included dresses, furs, lingerie, accessories, and shoes. They were innovative in many ways. Frank has spent his working career in Nashville with class and culture and quality, and we are proud to know him as a gentleman. He is a Vanderbilt graduate and served in the Us Navy during World War II.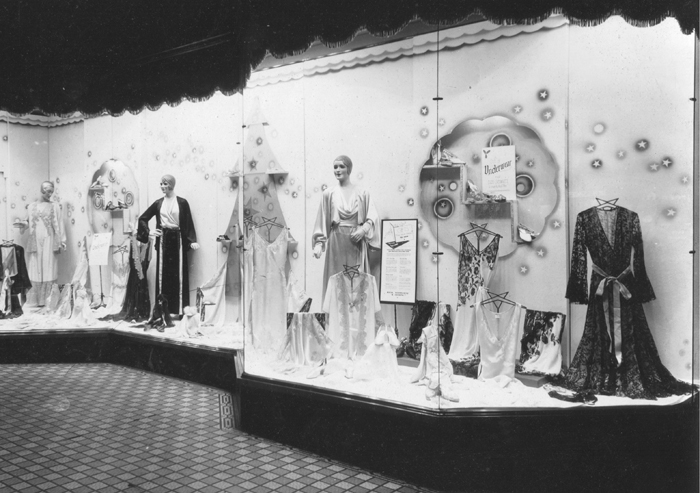 This circa 1927 photo (from the Rich-Schwartz 60th anniversary booklet) shows a window of the original store, which opened in 1902 and was located on Fifth Avenue North. (Image: Frank Schwartz and Jewish Federation of Nashville Archives)
Important info:
– Group will meet in the 1st floor conference room.
– Suggested parking the Nashville Public Library Garage or various free street parking if available
=======================================
Ticket reservations open Monday June 3, 2019 at 6:00 PM