707 Young's Lane, North Nashville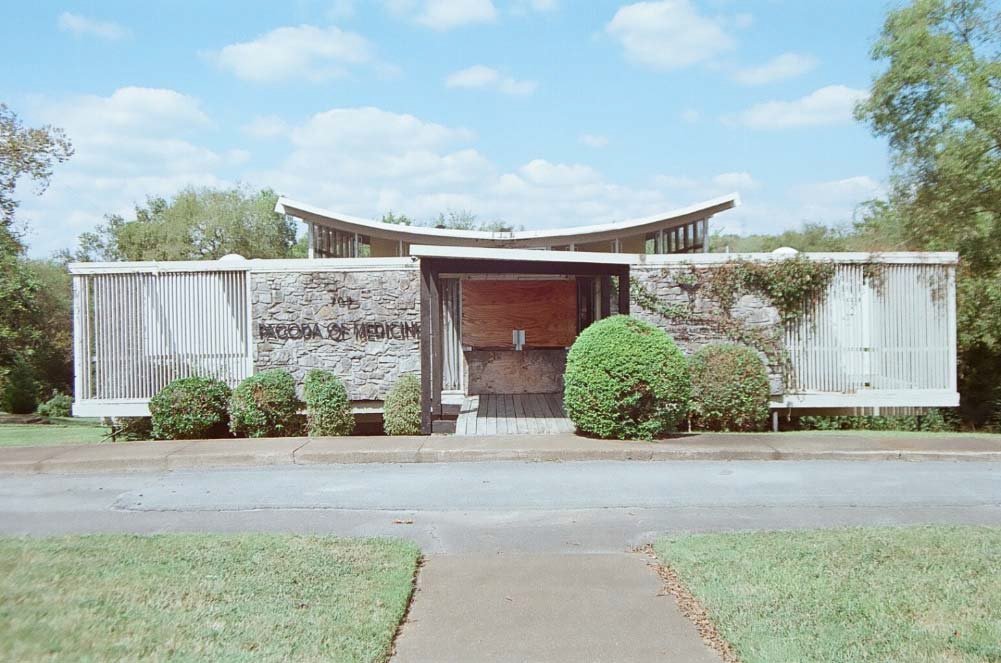 Constructed in 1963, the Pagoda of Medicine is a Mid-Century Modern building associated with Nashville's African-American history. Located on the former Riverside Adventist Hospital campus, the building was originally owned by Dr. Carl Ashley Dent (1914-1995), an African-American physician and missionary for the African-American Seventh-Day Adventist Church, founded in Nashville in 1883. A native of Georgia, in 1938 Dr. Dent became the first African-American offered a medical internship at Los Angeles County General Hospital. In 1940, Dr. Dent was hired as medical director of Nashville's Riverside Sanitarium, founded in 1927 as a segregated hospital for Nashville's African-American residents. Riverside focused on alternative therapies and became a mecca for African-American physicians, nurses, and patients from around the country.
In 1963, Dr. Dent constructed the Pagoda of Medicine for his private medical practice. The building's design is attributed to Leon Quincy Jackson (1926-1995), a notable African-American architect. A native of Wewoka, Oklahoma, Jackson earned an architecture degree from Kansas State University and a master's in urban planning from the University of Oklahoma, where he studied under renowned architect Bruce Goff, a protégé of Frank Lloyd Wright. In 1950, Jackson became the first African-American architect to open an office in Oklahoma. Jackson moved to Nashville in 1954 to teach engineering at TSU where he established the architectural engineering program. He also operated a private architectural practice and designed private homes, health clinics, churches, civic buildings, educational facilities, and residential towers. Several of Jackson's Mid-Century Modern landmarks in Nashville still stand.
In 1984, after the retirement of Dr. Dent the Pagoda of Medicine was rehabbed for use by Dr. G.B. Alford. The Riverside Adventist Hospital campus closed in 1999 was renovated in 2002 for use as an assisted living facility. Vacant since 2008, the Pagoda of Medicine retains its original architectural integrity, but has suffered from water damage and vandalism. The building is currently owned by the Seventh-Day Adventist Church.