200 BLOCK OF 3RD AVENUE NORTH AND 4TH AVENUE NORTH AND 300 BLOCK OF CHURCH STREET, REPRESENTS BUILDINGS BUILT FROM 1874-1929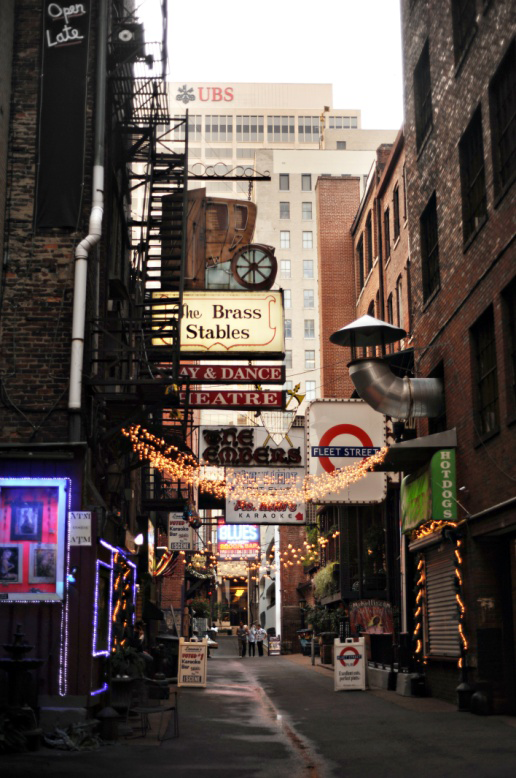 This historic district includes 15 buildings in the heart of Nashville's downtown commercial business district. Located adjacent to the 2nd Avenue Historic District, Printers Alley contains a variety of commercial buildings constructed from 1874-1929, ranging from one to twelve stories in height. The Printers Alley Historic District includes the 1926 Noel Place Garage, 1929 Noel Hotel, 1905 First National Bank (now Marriott Hotel), and the 1895 Southern Turf Saloon, which Historic Nashville owns a Preservation Easement on. The district also includes the 1891 Utopia Hotel, a six-story Romanesque-style hotel first
included on the Nashville Nine in 2012, and the 1887 Climax Saloon – both of which will soon be redeveloped as part of a six-story luxury hotel. Since the late nineteenth century, the service alley has served as the entrance to legendary watering holes, bars, restaurants and entertainment venues. The community has expressed concerned that development in Printers Alley could have an adverse effect on the setting and integrity of this historic district, and may ultimately result in buildings being removed from the National Register of Historic Places.
Photo: Stephanie Saujon